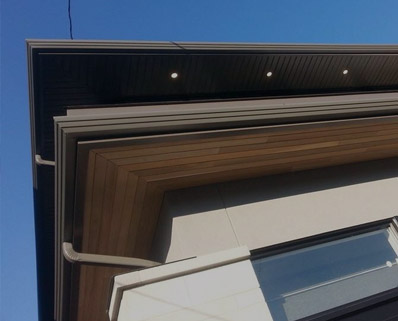 It's time for a gutter replacement
Are you looking to install or repair your gutters and you need help from a company in the Ottawa region? That's great but please know that not all establishments are the same or do they provide the same type of services.
Here are some important questions you should ask your gutter installer before hiring them;
Are you an authorized supplier?
In Quebec, gutter installation companies must be licensed. Beware of anyone without a licence. Modern Eavestroughing holds all the necessary permits to be operational in the region.
Are you insured?
Another important question to ask them is whether or not they are insured. If an employee slips off your roof and the business is not insured, you can be sued for damages. Same goes for if they accidentally damage your home during the work, their insurance must come into play to pay for the repairs. If they are not insured, you may be stuck with the bill. Our company is covered to protect not only itself, but especially to protect you in case of an incident.
What types of gutters do you have experience of installing?
This question is simply because there are different types of gutters, including aluminum, steel and copper gutters. Always ask this question depending on the system or type of gutter you want, but no worries with Modern Eavestroughing, we have experience with all these types of gutters.
What type of buildings can you install gutter systems on?
Some companies install gutters only on homes or residential buildings. Other companies can install them anywhere, including commercial buildings, condominiums, or various types of structures.
Do you install seamless gutter system?
There are many advantages to using seamless gutters, because they require less maintenance and last longer. Always ask the company that you plan to hire if they install gutters with or without welding. Our team at Modern Eavestroughing have a lot of experience with these kind of gutter systems.
Do you have references?
Any reputable gutter company should have clients who vouch for the quality of their work and make sure they are happy with the job. Our company will be happy to give you good references to consult before hiring us.
How long will it take to do the work?
It's important to ask how long it will take to install the gutter system. In most cases, the gutters can be installed on a house in one day so do not hesitate to contact us for more details.
Do you offer a warranty?
A large company should always support its work with a guarantee. If a company does not offer a warranty of their work or products, you have to ask them why. Modern Eavestroughing offers guarantees on their products, it's our pleasure to detail you everything on your quote!
Do you provide a written quote and a contract?
When you are looking to hire a gutter installation or maintenance company, you want to find someone who will put the quote and the contract in writing. This ensures that you are both on the same page and that there are no differences in the price and scope of the work done. Our representatives at Modern Eavestroughing make a point of doing everything in writing.
When looking for the best gutter company in the region, do not hesitate to contact Modern Eavestroughing today. We are a fully licensed and insured company that can help you with all your gutter installation and maintenance needs.