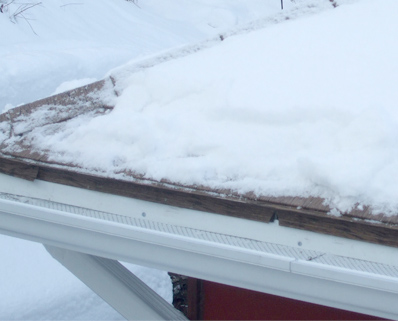 Your gutters and winter
Winter is right around the corner and despite the few flakes already fallen, you still have time to prepare your roofs for the beautiful winter. Once the freezing temperatures and heavy snowfall set in, any repairs on your roof can become very difficult, or even impossible. In that case, you will have to wait until the ice and snow melt. That's why roof maintenance and gutter cleaning are so important before bad winter conditions set themselves in.
At Modern Eavestroughing, we want to inform and guide our customers on how to prepare your roof and gutters so that you can stay warm and dry in your homes this winter. Please do not hesitate to contact us if you need our help, our team of professionals is available for you.
Cleaning your gutters
It's very important to make sure that your gutters are properly cleaned so that excess water runs away from your home instead of going back inside it.
If the gutters are clogged with leaves, pine needles, branches, objects, there is a risk that water infiltrates your home. You should have your gutters cleaned at least once a year, depending on the number of trees around your property. In addition to maintaining your gutters, your roof should be cleaned of all debris also.
Leaves and other waste in your gutters can stop the flow of water going downhill so it's especially important to uphold your gutters in the fall to have a great water circulation after the ice and snow melts.
To thoroughly clean your gutters, use a hose to circulate the water in the gutter system, ensuring that it's well drained. Monitor the particles that accumulate in your gutters because this can indicate that the shingles on your roof are beginning to deteriorate and you might need a new roof in the near future. Remember that excess water in the gutters channels can soften roof materials. The wood or the shingles can become brittle and easy to damage.
Not having reliable gutter protection can cause a lot of damage to your home and cost you a lot of money to repair. Ice dams, leaks and cracks in the gutters after the winter are some of the problems that homeowners may be facing without any gutter protection. Another costly problem that can occur is soffit and fascia damage. When gutters become clogged, water builds up and corrodes the soffit and fascia, eventually causing them to collapse.
When it comes to cleaning your gutters, you have two choices, hire a professional or the "do it yourself" method with the risks that this entails. Doing it yourself can save you a little money if you have the right equipment, but you have to be extremely cautious about heights and scales. Deciding to invest in a professional could save you a trip to the hospital.
All of the above information is essential to the comfort and safety of your home. These are areas vulnerable to damage during the cold winter months, which often bring high winds and excessive moisture (rain and snow).
If you ever experience water infiltration during the winter, it's important to call professionals such as Modern Eavestroughing to evaluate the damage.