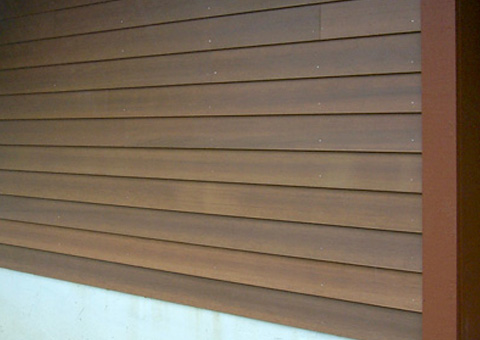 Repair and replacement of your sidings
When we talk about working on exterior sidings, we are discussing about significant and extensive work. It's a substantial investment, that's why we always advise our customers to choose a competent contractor to complete the project. For example, make sure he offers the necessary guarantees to reassure you (and secure his work!).
At Modern Eavestroughing, we not only offer a warranty on the completed project, but we also have all the permits and certifications required to intervene on a construction site. This is an element that we integrate with our clients so that they know they are in good hands.
In addition, we offer a global assessment in order to ensure our customers that the price we offer is competitive. As mentioned above, we recommend to our clients an assorted range of exterior coatings. Over the years, we realized that we must have in stock a wide variety of materials, not numerous prices. Customers come in all genders, they have different budgets and of all magnitudes! We must therefore take action to adjust to everyone.
Over time, the exterior sidings of your home can be damaged and for many reasons! High winds, hail, and repeated snowfall: these are just a few examples of natural or accelerated wear and tear of your roof. And when this happens, your home will not only lose its curb appeal, it will also develop insulation problems. It's very important to resolve the situation quickly.
Fortunately, the home owners who have the contact information of a good gutter and siding specialist can avoid many glitches. At Modern Eavestroughing, we help property or other types of residential buildings owners on everything related in the repair or replacement of exterior sidings. And since we have in stock a huge range of products, we are able to satisfy all our clients as well as fit into any budget. We guarantee that your project will be completed within a reasonable time.
Are you curious to learn more about this topic? We invite you to continue reading this article! It will provide you with different options and products available today in order to repair or replace your exterior sidings.
What are the variables that influence the trends of exterior sidings?
Be aware that many elements play a role in the cost of siding repair projects. For example, wood coating is known to be expensive to replace and that aluminum or vinyl siding are less expensive.
Yet, we must also consider the extent of damage. If you have before you a small replacement project, the costs will be significantly lower than if you have to undertake major repairs. That's why we often say our customers to be vigilant and contact us as soon as they begin to see the first signs of damage.
What is the process of an exterior siding repair project?
Generally, the repair process involves several steps. First, we must inspect the damaged coating and remove it. Then you have to cut out the bad sections, replace them and strengthen them if necessary.
Subsequently, we measure and cover up with a new coating that we prepared beforehand for the damaged zone. Obviously, we make sure that this one fits perfectly with the existing siding. It's a well prepared process that we still used on all our projects. We have all the necessary experience to successfully complete the assignment.
And what products are available for the replacement of sidings?
As we already mentioned, a good contractor will propose several siding options. After all, didn't we just say that all tastes come from nature? Here are some options available at Modern Eavestroughing.
Cedar Siding
One of the most popular siding products is the cedar shingles. We find them on traditional home because it pairs beautifully with wooded landscapes and waterfronts. It's made of natural cedar shingles, which are usually colored with earth colors, brown or gray.
Main suppliers: Wood Source
Link: https://wood-source.com/
Wood Siding
Despite the easy availability of synthetic wood products, solid wood (cedar, pine, spruce, redwood, cypress) is still very popular. This is normal since it gives the houses a magnificent look. With the periodic painting or staining, wood siding can survive vinyl and other pretenders. There are centuries-built wood frame houses that still look beautiful today.
Main suppliers: Maibec
Link: http://www.maibec.com/en/
Fiber Siding
This cement fiber siding is made from cellulose fibers and cement. We offer a great selection because this product is suitable for all styles of home. Its main features are the resistance to impact, moisture, salt air and carpenter ants. They are popular with several clients!
Main suppliers: James Hardie
Link: http://www.jameshardie.ca
Steel Siding
The strength of steel triumph torrential rains, high winds, freezing temperatures and scorching heat. Its upscale appearance adds dimension and creates a bold style. Often this type of coating is used on modern and industrial designs. We find it a lot on commercial buildings.
Main suppliers: Ideal Roofing
Link: http://www.idealroofing.ca/
Vinyl Siding
Vinyl exterior coating provides exceptional beauty, durability, maintenance and a good value. It's less expensive and takes less time to install than most other siding materials. There is a wide selection of solid colors and marble and a wide range of profiles to give a touch of elegance to your home.
Main suppliers: Gentek, Kaycan, Mitten.
Want to finally resolve effectively your exterior siding problem? Modern Eavestroughing is one of the five companies recognized in Eastern Ontario and the Ottawa region by James Hardie.
Contact us now to achieve your dream home!