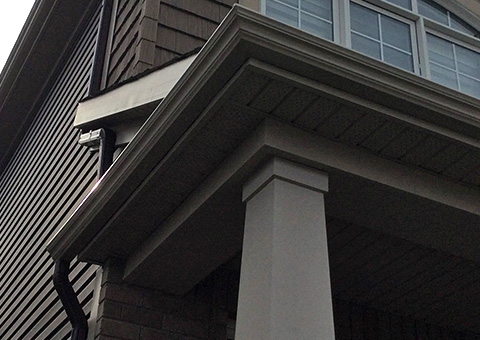 Gutter system - An investment that profits
The gutter system serves many important functions around your property. If you wish to keep your property dry for several years and avoid damaging your home, gutters can not only help you save money, but also save on your maintenance.
Is it worth investing in this kind of protection? Well yes, it's worth it.
Read on to find out why investing in a gutter system is a wise choice for any homeowner wanting to keep their property dry, clean and valuable.
Why having new gutters make you save money?
Like any property improvement or renovation project, making the decision to install a gutter system is a financial investment. However, it's certainly a wise investment of your money because it turns out that gutters are a necessary asset during rainy days.
A gutter system can help you become a proactive homeowner by preventing other problems around your home that would increase long term costs. Here are some reasons why investing in gutters is a project you should not let pass.
– Obviously, keep people dry. You do not want to enter or leave your home and be soaked by a waterfall coming from your roof. Gutters collect the rain and transfers it to the ground without falling everywhere. Their purpose is to divert the rain from your roof and onto the ground in a controlled manner.
– Avoid flooding in the basement. Without rain gutters, water can gather around the base of your home, and seep into the cracks in the basement and cause flooding problems. Gutters guides water away from your home efficiently into sewers and bottom soil to prevent uncontrollable infiltrations. This is due to a curved piece attached to the end of the gutter, called a descent.
– Create a look. Water that runs down your house can be sloppy as it splashes dirt and residue against the siding of your property. Over time, this will cause the appearance of your home to deteriorate and requires you to often clean up the mess. It can also do damage to the paint, which may require a possible re-painting of your exterior.
– Prevent deterioration. The exterior and roof of your home can be lined with parchment paper and plywood, which are not completely waterproof. Since the claddings and shingles are installed in pieces on these materials, they may have gaps and move over time, so that water can eventually sneak underneath them. As water penetrates, walls and roofs soaked with excessive water can begin to deteriorate and even rot. The materials can eventually decompose and break down over time.
Now that you know some of the benefits on having a gutter system, you should consider making the investment.
There are systems that are affordable even for households with limited financial resources. More importantly, you will save considerably in cleaning and maintenance with good protection. This means you will save yourself and your investment will be very advantageous.
Stop letting uncontrolled streams damage your property and make the step toward installing gutters. Gutters are an important feature to keep your home dry and prevent unnecessary and costly problems. Save money now and invest in a good gutter system and the rainy days begin!