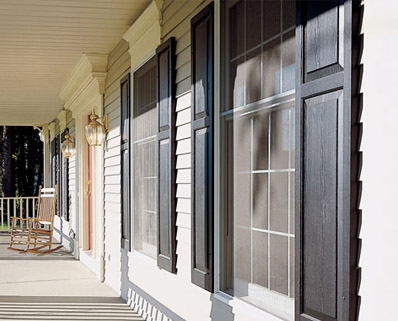 Fascia from Gentek
The fascia is a long straight board that runs along the bottom edge of your roof. This board is mounted from the point where your roof meets the exterior walls of your home. Most people refer to it by name of the 'main board' that carries the gutter. The fascia is attached directly to the lower ends of the roof and it usually does all the work of supporting the gutters. Unfortunately, few people are familiar with these terms, so we thought you might appreciate a bit of explanation on these expressions.
Modern Eavestroughing works closely with Gentek products to protect your property while providing a delightful and durable appealing look with very minimal maintenance.
In addition to protecting the structure of your home, the aluminum fascia with its buddy, the soffit allows the air to circulate in your attic. The risk of moisture accumulation, condensation and rot due to excess heat is greatly reduced when your home has a soffit that is well ventilated.
Color Clear Through
Gentek offers a wide variety of colors with their Harmonie arrangement system which makes it easier to match their products with the color of your home. This special collection of coating colors, soffit, fascia, trim and gutters will beautifully fit with all of the Gentek product lines.
Gentek's unique V-shape soffits offers more strength and durability, and all the panels are available in a simple or ventilated design that locks easily for a fast, professional finish. Complemented with the ribbed panels of the fascia, your home will have style and will be protected for years to come.
We offer some fascia profiles in ribbed and plain pattern, available in our aluminum, either in regular or thick caliber, 4 ", 6" and 8 ".
Easy to maintain
Gentek's aluminum soffit and fascia system is a smart and long-term investment. With its high performance, baked finish, it's very easy to maintain and will not emboss, will not flake & will not peel. Even if it's subjected to moisture, the aluminum will not crack, warp or rot; you are done with maintenance or repairs associated with wood products.
Once the installation is complete, you do not have to think about it anymore!
source : https://www.gentek.ca/wp-content/uploads/sites/2/2020/08/AlumSidingSoffitFascia_CAe_broch.pdf