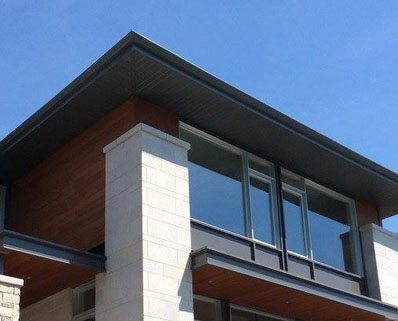 Do gutters increase the value of the property?
Here's how some of the best appraisers evaluate your home's water shields.
Gutters are the unsung heroes of real estate. They don't deserve compliments such as a property's beautiful landscaping or even the choice of tiles for your main shower. But without them, the structural integrity of your home can be threatened.
Every day, many homeowners face water-related emergencies. Gutters play an indispensable role in pushing water where it should be; away from the property, to prevent foundation erosion and roof leaks.
When the appraiser evaluates a property for a mortgagee, he will almost never loan money for a property that doesn't have a gutter system and downspouts that are in good condition.
An appraiser may be required to provide an estimate for the installation or repair of an eavestroughs system. The cost of the installation or the repairs can then be subtracted from the total value of your home.
So do gutters truly increase the value of the property? Not quite, because they are a bit like the tires on your car: buyers expect a property to have them, for them to be in good shape, or they will pay less for it.
Basically, having gutters (or having a system in poor condition) lowers the value of your home.
Not only does the lack of a gutter system or problems resulting from them will harm your home and can affect the sale of your property, but they can also actively lower the value of your house.
Whether you don't have gutters or if the ones you do have are neglected, broken or poorly secured, you are compromising the longevity of your home by exposing it to further problems. And these problems will affect the evaluation when you try to sell it.
Remember that a gutter system is part of real estate, but there is no specific adjustment line for gutters.
In some cases, missing or damaged eavestroughs can even end the sale before it even begins.
A good gutter system will attract buyers but don't necessarily bring added value.
That said, eavestroughs themselves do not generally increase the value of your home. They are standard, especially in areas where there is a lot of rain, and having them is nothing special.
However, you can add overall perceived value to your home based on the gutters themselves. Here are a few tips on how to make your gutter system work for the sale of your home.
Make sure your eavestroughs are properly installed.
There are two important elements in this equation. Proper installation of gutters which means making sure that the water is diverted far away enough from your home so that no damages can occur to the foundation or siding.
Also make sure that they are leveled, meaning they do not allow water to accumulate in them and that they have no place to drain.
Match your gutter system to your home.
As with any other part of your property, you must ensure that the colour and size of your eavestroughs are appropriate for your property.
For colours, gutters will generally be the same colour as the exterior trim. As for the size, our experts will be able to guide you through the available choices.
Respect standard gutter materials
If you want your eavestroughs that will add value to your home, opt for a joint-free option. They look cleaner and more professional. Gutters re usually made of metal or aluminum; the material doesn't matter as long as the eavestroughs are sturdy, functional and match your home.
Contact us today at Modern Eavestroughing to see which gutter system would best suit your home!