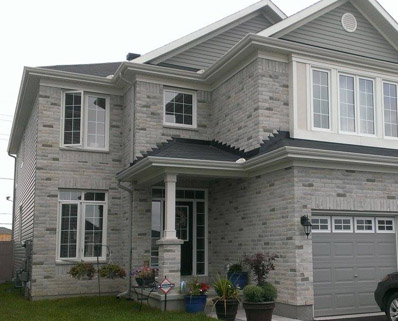 Common gutter problems this spring
Now that winter is finally over, homeowners will be forced to clean up and repair the damages left by the snow this winter for the next few weekends. It's always best following the thaw to make an early jump on spring maintenance, as spring rains and possibly hot weather can ravage your home quickly.
Your gutters function for several hours during spring time, especially when rainy days are more frequent. The quote "April showers bring May flowers" was not initiated for anything! Early spring is the perfect time to inspect your gutters in case of damages or problems that may have occurred during the winter months.
These are common problems you may find in your gutter system this spring:
A gutter full of leaves, twigs and other debris. If your gutters are not protected by the Alu-Rex system, it is most likely that winter winds will deposit many things that do not belong there such as leaves and debris that can obstruct the flow of impending spring rains. If the idea of getting on a ladder to clean your gutter doesn't seem very appealing to you, please do not hesitate and call us today for a free home consultation. Our team will either clean your gutters if they are still in good condition or simply remove your old clogged gutters and install seamless T-Rex gutters that will never have to be cleaned again!
Check if your downspouts are jammed or altogether just blocked. Downspouts are an important part of your gutter system since they are responsible for directing the flow of water away from the house, protecting the foundations and subsoil from water damage. Leaves and debris that have accumulated throughout the winter can easily block the entrance and exit of the descent, interrupting the flow of water.
Inspect your gutters appropriately to notice if they are bent, slumped or damaged. Snowfall, ice, or hail can all wreak the waterways during the winter, forcing them to come off or detached themselves from the house. If you notice holes, sagging sections or other signs of damage, be sure to correct the situation immediately. The holes should be caulked or plugged to prevent water from seeping into the side of your house. Sagging is an indication that some clips are missing and need to be replaced.
If your gutters seem to be damaged, it's time to consider replacing them and investing in a proper gutter system for your home. Don't hesitate to contact us today for more information. Our team of experts will be happy to guide you in all the different choices available on the market.